The sting I felt as my hair whipped me from all directions faded as our cherry-red convertible completed its turn and the glimmering, whitecapped waves of the Pacific Ocean came into view, tumbling forcefully into the bay. For a 10-year-old in the 1990s, this scene along California's Highway 1 was straight out of a music video, and I threw my chubby hands up from the backseat of our family rental car to catch the cool breeze just in time for Celine Dion to belt out, "… there were moments of gold, and there were flashes of light," from my parents' well-traveled mixtape.
In this ethereal moment — puffy green hills to my left, azure waters to my right, my family laughing and singing loudly as the open road stretched ahead — I imagined returning here one day with my own family. Fast-forward three decades, and I finally found myself back on this iconic slice of American roadway, this time in the front seat with my husband at the wheel and my two young kids giggling in the rearview mirror.
Before the construction of Highway 1 began in 1919, only a series of rugged horse trails connected the sparse villages along the coastline. It took nearly 70,000 pounds of dynamite to blast through the rugged terrain over the course of 19 years; and when it finally opened in the 1930s, it did so under a multitude of names (Pacific Coast Highway, Roosevelt Highway, Cabrillo Highway, among others). Only in 1964 did the route earn its No. 1 designation, but by that point many had already made the more than 650-mile trip from Leggett to Dana Point, with plans to do it again.
"The Santa Lucia Mountains are so steep in parts … and then we built a highway on the edge of the continent," explained Kevin Drabinski, public information officer, Caltrans District 5, who recommends checking road conditions before planning any Highway 1 adventures for that reason. "The experience sticks in your memory, and you feel part of that ancient conversation between the mountains and the ocean that's like no other place you're going to see in California."
Although it's possible to drive the length of the highway in one day without stops, travelers often drive it in sections over multiple days. Highway 1 was never intended to be the quickest route from Point A to Point B but rather a journey designed to enjoy. The road almost comes alive when you drive it slowly, as the charm of the coastal towns and the beauty of the scenery become more than mere backdrops. We made a family pact to slow down and take everything in during our five-day journey as we gathered around our open-air firepit at our starting point, The Ritz-Carlton, Half Moon Bay. A bagpiper serenaded the setting sun as the Bay Area breeze tickled the flames around my son's roasting marshmallow and my daughter burrowed deeper into my arms.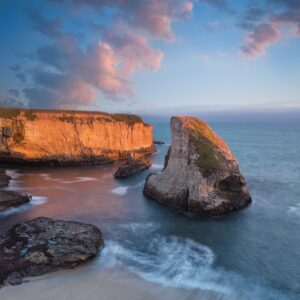 Early the next morning we soared past redwoods and picturesque beaches with names like Shark Fin Cove before pulling over for breakfast at surfer-chic Jack O'Neill Restaurant in Santa Cruz. We watched surfers ride the waves as we nursed our own grinds from Verve Coffee Roasters and downed hearty breakfast burritos. Tempted to rent e-cruisers from Gazelle Bikes, we strolled instead along Santa Cruz Municipal Wharf to watch sea lions bask on the sun deck.
Our next stretch led through the artichoke capital of the world, Castroville, and its beloved farm stand, Pezzini Farms, where we stocked up on preserved artichokes and candles scented with artichoke flowers. Farmland gave way to the golden sand dunes of Fort Ord Dunes State Park, hiding the ocean views briefly before we rounded a corner and gasped at Monterey Bay before us. Cannery Row called, and we answered with a stroll along the shopping and dining street on our way to Monterey Bay Aquarium.
It's strange to spend an afternoon gazing at amazing creatures of the sea only to find yourself craving seafood. Nonetheless, we soon enjoyed fragrant Monterey-style cioppino at Schooners Monterey. We checked in to Monterey Plaza Hotel just as our day rental arrived from Monterey Touring Vehicles, and heads turned as we drove off for 17-Mile Drive in Pebble Beach in our classic car. The dramatic drive is equally as famous as the peninsula's Pebble Beach Golf Course, and we spent two glorious hours driving and stopping for photos along the scenic loop.
Our joy ride continued to Big Sur, where landslides prevented us from continuing but gave us a chance to enjoy the views twice as we doubled back to Carmel-by-the-Sea. Feeling glamorous in our rental, we sampled upscale appetizers at Chez Noir before reluctantly returning the car and refitting our car seats into the Jeep. Sunset over the bay was magical from our waterfront suite, and we fell asleep to the sound of waves brushing against the shore.
It'd be easy to get used to the morning mews of seagulls, we decided, as we relished the peaceful early hours before driving Route 101 to Pismo Lighthouse Suites, our home base for traversing vineyards and scenic hikes for two days. We eventually headed north through Morro Bay, Cambriaand San Simeon to Hearst Castle to tour the art-haven-turned-Hollywood-hangout of William Randolph Hearst.
The San Luis Obispo area is famous for oysters, Chardonnay and tri-tip, but our kids will forever remember the chewy, sweet-and- salty cookies from Brown Butter Cookies (we bought an extra box for home). We took one more treasure-hunting trip to Shell Beach before returning to Highway 1. We cruised the streets of Malibu and navigated a narrow staircase leading down a 150-foot bluff to El Matador State Beach. We arrived at Marina del Rey Hotel in Los Angeles before sunset, so we rented two bikes and a Burley stroller to explore Venice Beach and Santa Monica Pier.
The wild lights of the pier lit up just as we began pedaling back to our hotel, grateful to be out of the car breathing in the sweet night air. We spent the next morning at the hotel's pool before finishing the last two hours of our journey still in our damp swimsuits … a useful clothing choice as we explored Huntington Beach and Treasure Island Beach near Laguna Beach.
The salt was still drying in our hair as we noticed the signs for Highway 5 in Dana Point, marking the end of our journey. Nostalgia hit me, and so I scrolled through my Spotify playlist, rolled the windows down, and let the words ring out once more … "there were moments of gold, and there were flashes of light."
LODGING
Marina del Rey Hotel
Amenities at this waterfront retreat include a heated pool, gardens, picnic area and award-winning dining at SALT Restaurant, minutes from Venice Beach.
13534 Bali Way, Marina del Rey
$$$$–$$$$$
Monterey Plaza Hotel & Spa
Enjoy a classic California coastal experience at this elegant hotel boasting a rooftop luxury spa. Many rooms feature sweeping ocean vistas and the sound of waves lapping the shore.
400 Cannery Row, Monterey
$$$$$
Pismo Lighthouse Suites
Overlooking sunny Pismo Beach, the all-suite hotel offers fun for all ages, from a heated pool and hot tub to badminton, ping-pong, life-sized chess and a pirate ship play structure.
2411 Price St., Pismo Beach
$$$$–$$$$$
DINING
Chez Noir
The coastal California cuisine showcases ingredients from the Monterey Peninsula. Start with appetizers like chilled oysters and abalone skewers, and try local rockfish and rock crab.
Fifth Avenue between Dolores and San Carlos streets, Carmel-by-the-Sea
$$$$$
Jack O'Neill Restaurant & Lounge
Grab a bite at this surfside restaurant where sustainability and regional ingredients drive the menus for breakfast, brunch, lunch and dinner, plus a kids menu.
Dream Inn, 175 W. Cliff Drive, Santa Cruz
$$–$$$
Schooners Monterey
Schooners serves contemporary American cuisine with a focus on carefully sourced seafood. Take in the sights and sounds of the bay from the heated waterfront terrace.
Monterey Plaza Hotel, 400 Cannery Row, Monterey
$$$$
INFO TO GO
Non-local travelers often fly into San Diego (SAN), Los Angeles (LAX) or San Francisco (SFO) and rent a car to access their desired section of the Pacific Coast Highway. From L.A. or San Diego, head to Dana Point. From San Francisco, drive about 3.5 hours north on Highway 101 to access the starting point for Highway 1 heading south.