Middle East Tours
February 2019, Tours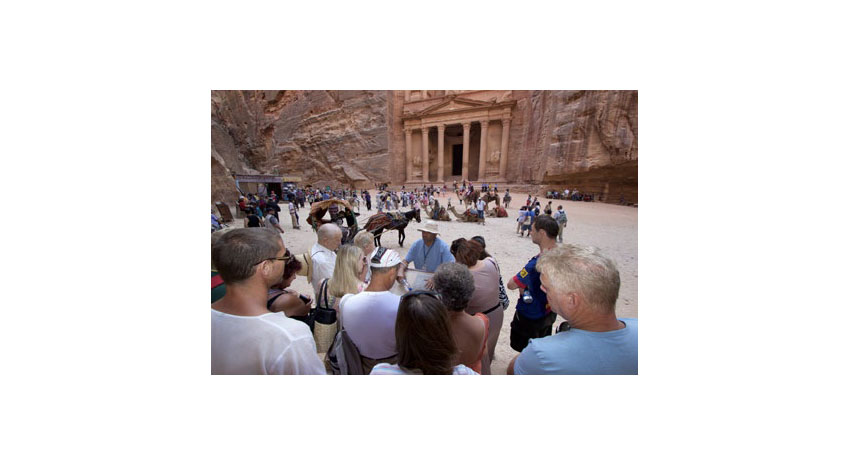 Photo: Tour of Al-Khazneh, the Treasury, in Petra, Jordan © JOSEF MILLS – DREAMSTIME.COMBy Kristy Alpert – February 1, 2019
I DISMOUNTED MY CAMEL and stood face-to-face with the massive limestone blocks of one of Giza's great pyramids, unable to take my eyes off this wonder. I inhaled and felt a twinge of excitement as my guide, Amal El Far, handed me a ticket to enter the Great Pyramid of Khufu. Only a small number of people are allowed to go inside the pyramid each day, and lucky for me, the concierge at the Marriott Mena House hotel in Cairo recommended a guide who not only knew how to navigate the site but who also came armed with cold bottles of water, hand sanitizers and some amazing insider knowledge about Egypt's history.
The Middle East, Egypt and Turkey are home to some of the most amazing and historic sites in the world — the Great Pyramids of Giza, Petra in Jordan, the Burj Khalifa in the United Arab Emirates and Hagia Sophia in İstanbul — but it can often feel overwhelming for many tourists used to traveling in more Westernized cultures. Private tour guides like Amal El Far take the trepidation out of travel in this area, where they can advise on local customs, help with bartering in the souks and markets, and give insight into the destination's historic and current significance.
Tours in the Middle East range from a four-hour dining experience with a Bedouin family in the desert to a multiday custom itinerary inclusive of museum entrance fees and meals and extras. The top companies operating out of the Middle East include Alshamel Travel, which specializes in VIP travel for government officials, small groups and individual bookings; and Kanoo Travel, one of the largest tour operators in the Middle East.
Bestway Tours & Safaris offers tours around the world, but the Middle East tours by this family-run operator are second-to-none. Three brothers, born in Africa and educated on three continents, where they learned the value of working alongside locals, started the company. Highly trained local guides run all of the tours and give travelers a firsthand look into life in their chosen destination.