Celebrate Germany's Christmas markets with Kensington Tours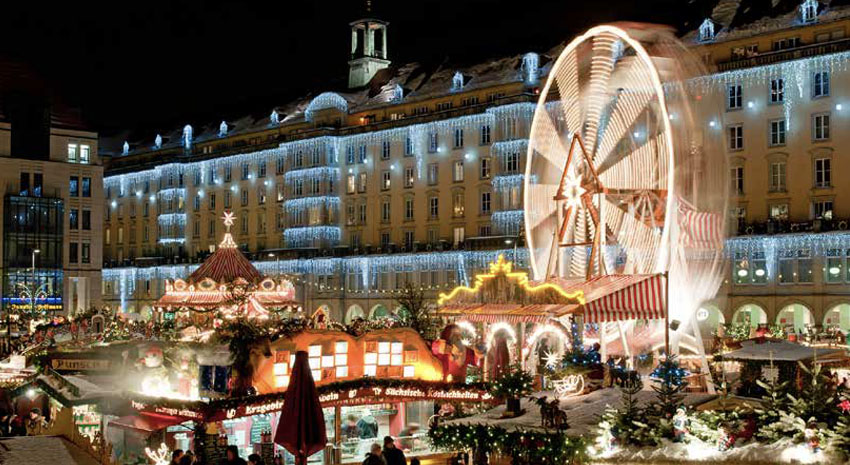 WHEN THE COMFORTING AROMAS of spiced glühwein (mulled wine); roasted chestnuts; and delicious, fresh gingerbread begin to scent the air throughout Germany, it can only mean one thing: The season of Christmas markets has finally arrived.
Christmas markets are a time-honored tradition throughout Germany where, for the four weeks of Advent leading up to Christmas, villages small and large gather to join in celebrating the yuletide spirit. Records of early winter markets in Germany can be traced back as early as 1310, but most experts agree the first true Christmas market began in 1434 as Dresden's town square filled with tradesmen and villagers selling their wares, homemade decorations and gifts at the Striezelmarkt.
Over the years, the markets became known as Christkindlmarkt ("Christ child market" in English) — in honor of Martin Luther's suggestion children should receive presents from the Christ child — and continued to be a place for buying and selling handmade presents and tasty treats in a joyful environment with singing carolers, jingling bells and twinkling lights. Today, many of the markets maintain the enchanting traditions and fairy-tale atmosphere that made these gatherings so iconic throughout the years.
Navigating a larger German Christkindlmarkt can get a bit confusing without a guide familiar with each market, already knowing the best markets and vendors in a sea of more than 300 stalls and hundreds of markets. That's where Kensington Tours comes in. This custom tour operator specializes in tailor-made journeys, with more than 10 years of experience guiding guests around Germany's best Christmas markets. Its nine-day Christmas Markets of Germany tour offers a private guided experience for visitors looking for an in-depth, self-paced, personal journey through one of Germany's most treasured traditions.
"We marry the traditional Christmas markets experience with a completely tailor-made and privately guided experience through Berlin, Munich, Nuremberg and Dresden," explains Kathleen Doheny, vice president of marketing, Kensington Tours. "Our private tours give an authentic, local introduction to the distinctive history and culture of each destination. Our clients are given an insider's perspective and guidance to the best of the Christmas markets and are guided to seek out the hidden gems and favorite stalls and stores of in-the-know-locals."
Although Kensington Tours lists a suggested itinerary on the website, each trip is bespoke, with the destination specialist taking time to understand each client's unique needs. The tour can take on a culinary focus, a historical focus or an art or music focus if desired. Whatever the chosen theme, guests are sure to go home with full suitcases, full bellies and hearts full with fond memories of being part of a centuries-old tradition.