Relaxing or not, these treatments will be memorable.
There's a time and a place for a regular ol' Swedish massage, but these bizarre treatments found at spas around the world can give you a signature sense of place while helping you recover from a long journey.
PHOTO:
Puhhha | Dreamstime.com
This 90-minute treatment at The Palms Turks & Caicos Spa may seem innocuous at first glance, but read the fine print to uncover the surprising secret ingredient to obtaining pearlescent skin. The treatment begins with a massage therapist hand-crushing a queen conch shell and then mixing the broken bits with sea salts and aromatherapy oils to create an abrasive scrub that's applied vigorously to the body. It ends with a 60-minute massage and application of a special mother of pearl body milk. Conch shells are believed to have anti-aging qualities due to their rich abundance of proteins and keratins.
The Barrel Bath: Red Wine Extract
Located in the epicenter of Portugal's famous Port wine region, the Vinotherapie Spa at The Yeatman hotel offers a literal immersion into this iconic appellation with its barrel wine bath experience. The bath is available as a single or couple's treatment and takes place in a private room overlooking the Douro River. A therapist fills a bubble bath with warm water and then pours in a concentrated glass of red wine extract to condition the skin. Follow it up with a Merlot body wrap or a Cabernet body scrub for a twist on a wine detox.
You don't even have to step foot on a golf course to get a memorable golf experience in Ireland with the Spa at Dromoland Castle's golf ball massage. The massage is similar to a hot stone massage in that the therapist heats a regulation sized golf ball up before placing it in a special holder to then roll around on the body and alleviate muscle tension. Although the ball doesn't retain heat the same way a stone does, the ball's size and texture makes it ideal for reaching tough areas and hitting trigger points that can help prevent the dreaded golfer's elbow.
INSIDER TIP: 
Head off the castle grounds for a meditative horse whispering experience with Johnny Hassett (a.k.a. Zen Johnny) at Ballyhannon House. It's the closest thing to horse yoga out there!
WHERE: Kanagawa Prefecture, Japan
Although the bath is located in a theme park just outside of Tokyo in the Kanagawa Prefecture, there's more to this bathing ritual than just being a tourist attraction. The owners of Yunessun Spa claim the coffee bath is good for recharging, relaxing, and beautifying the skin with the beverage's natural antioxidants. The entire pool at this hot springs theme park is filled with coffee that emits a powerful aroma throughout the enclosed space.
PHOTO:
felixhug/eyesonasia.net
Traditional Balinese Healing Touch Massage
Balinese healers have been offering treatments and therapeutic sessions in spas around the island long before Elizabeth Gilbert popularized the craft in her book Eat, Pray, Love. However, there's a notable difference in the healing massage at the Mandapa, a Ritz Carlton Reserve's Spa than what is found elsewhere on the island. The healer, Ibu Ketut Mursi, is blind. She doesn't speak English, but she uses her intuition and skills as a healer to assess her clients and then remove blocked energies, using reflexology techniques to realign the body and spirit with the aid of her assistant.
WHERE: New York, New York
Snake priestess turned massage therapist Serpentessa claims that the "genuine enjoyment of a snake massage is a result of you the client being guided by the practitioner into a relaxed empowered position of choice for a mutual inter-species healing experience." Snake massages have been practiced for centuries, where clients lay motionless as snakes of all sizes slither and entwine their way over the body for a massage that is reported to relieve stress and eliminate migraines.
Nik Te Ha Aquatic Massage
WHERE: Riviera Maya, Mexico
This ancient Mayan therapy takes place underwater at the SE Spaat The Grand Velas, where a massage therapist swirls, twirls, and submerges the body in a way that helps clients release tension and let go of any emotional distractions. Although it's become known as the "underwater massage," there's more underwaterthan there is massage to this ritual, which is said to remedy chronic fatigue, irritability, stress, depression, insomnia, migraines, and more. Bathing suits required.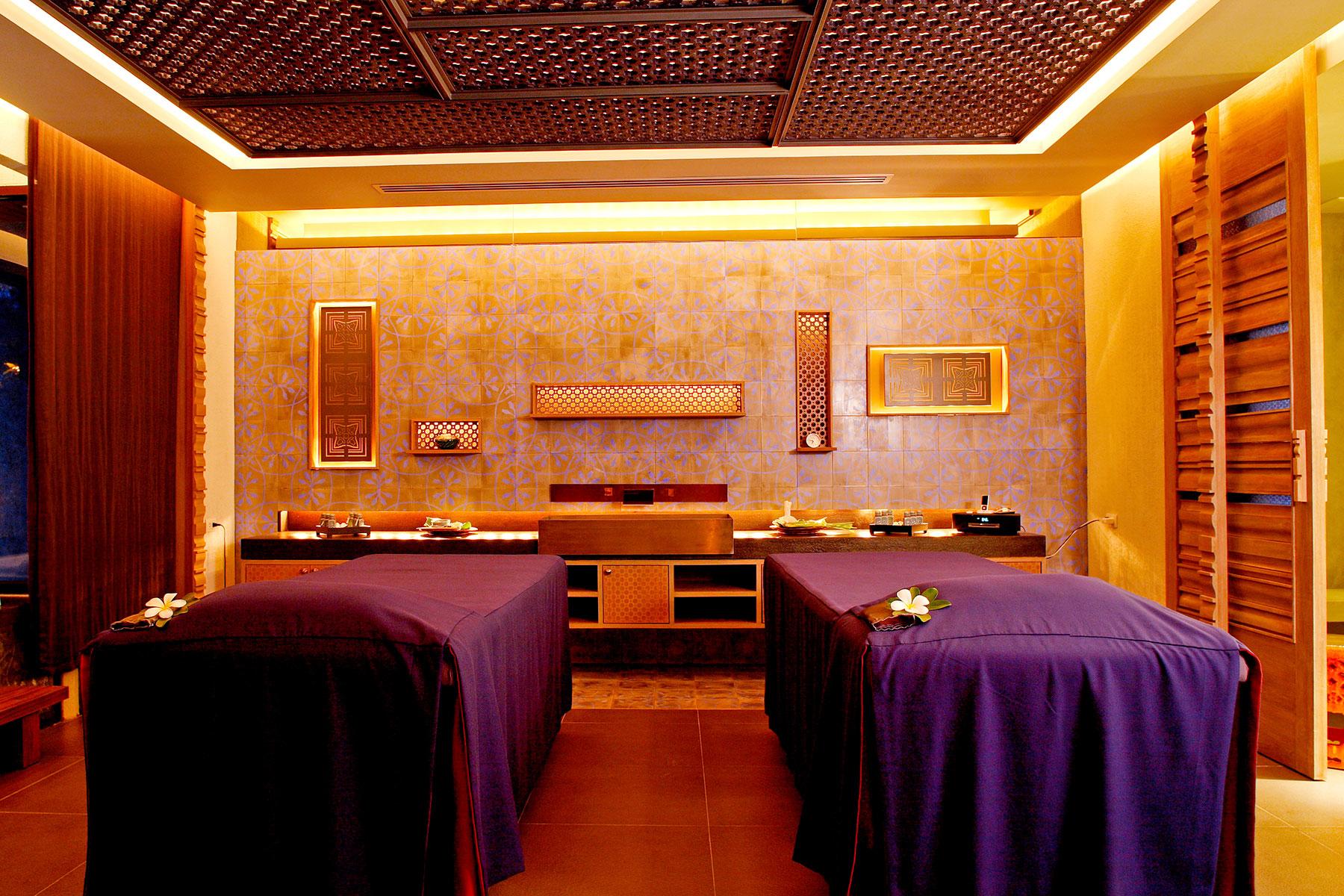 The Cool Spa at Sri Panwa resort's list of massages and treatments reads more like a dinner menu, with ingredients for the massage creams and oils picked fresh and cooked on the spot for the ultimate organic spa experience. Their blood type therapies are customized for each person, varying up massage techniques, ingredients, and even room ambiance based on blood type.
PHOTO:
Andreyps | Dreamstime.com
Loosely translated, the Russian word "banya" means sauna; a seemingly harmless spa ritual. But in the true Russian tradition, the ritual is enhanced to include a series of time spent inside sweltering wooden chambers (reaching temperatures of 212 degrees Fahrenheit) interspersed with a series of beatings with eucalyptus branches. The banya treatment at the Quantum Spa inside the Ararat Park Hyatt Moscow is a little less severe, where the treatment comes with a private room, a personalized thermometer, and a soothing honey mask applied after the light tapping of softened eucalyptus branches.
WHERE: Muhu Island, Estonia
Residents of Muhu Island have long believed in the healing powers of warm Estonian hay and local honey to cure a number of ailments including osteoarthritis. The spa at Padaste Manor pulled from ancient traditions to create a unique treatment where they heat locally harvested hay to the perfect temperature and place it like a blanket over the body. Follow it up with a honey facial for the full head-to-toe experience.
PHOTO:
Dragonimages | Dreamstime.com
The secret ingredient in this organic facial? Bird poo. Geishas once cloaked their faces in nightingale droppings (uguisu no fun) to undo the harmful chemical effects from their lead-based makeup. Get the geisha treatment at Singapore's Ikeda Spa, where they mix their secret ingredient with rice bran, camellia oil, Azuki red beans, and peach moon water for a super hydrating, rejuvenating facial.
PHOTO:
The Ritz-Carlton, New Orleans
WHERE: New Orleans, Louisiana
Drums and VooDoo chanting serenade the journey through this French Quarter ritual. The Spa at the Ritz Carlton, New Orleans offers a VooDoo Ritual massage that includes burning candles and incense, and a special blend of massage oil scented with absinthe, cypress, moss, and vetiver. The ritual lasts 80 minutes, where the massage therapist uses long strokes and a locally crafted herbal poultice to sooth sore muscles and enlighten the spirit.
WHERE: Nuevo Vallarta, Mexico
Drinking tequila in moderation has been linked with lowered cholesterol, but Vidanta's Brio Spa in Nuevo Vallarta's usage of this popular drink can actually result in lowered stress. The spa created an exclusive recipe for a tequila oil that combines all the healing properties of tequila in a concentrated tincture that nourishes and soothes the skin and body. The massage starts with a blend of lymphatic, deep tissue, and Swedish techniques, and ends with a refreshing blended margarita.
Traditional Chinese Medicine (TCM)
Taking a cue from ancient Chinese rituals and remedies, this treatment at the Spa at the Four Seasons Toronto comes in four sessions that includes an initial 30-minute assessment with a TCM holistic practitioner. From there, the techniques vary, ranging from cupping (powerful suction cups placed strategically on the body), acupuncture (needles arranged strategically on the body), or, the kicker, gua sha. Gua sha is also known as Chinese skin scraping and bruising, where pressured strokes end up scraping the skin in a way that is said to promote blood flow and healing.