If you've ever wanted to take your love of the great outdoors to new heights, get ready to climb up to the canopy and sleep in one of these amazing treehouse hotels.
Feats of contemporary engineering, these contemporary treehouse hotels are certain to astound, with amenities ranging from Jacuzzis and fireplaces to the perfect chance to stargaze from bed. If you want to feel like a kid again, you'll find that these one-of-a-kind properties let you relive the magic of childhood memories while appealing to your grown-up tastes. These incredible tree-house hotels offer lodging experiences you won't soon forget.

TreeHouse Point
WHERE: Issaquah, Washington
Less than a half hour outside of Seattle, six cabins in the trees comprise TreeHouse Point, an adults-only (children 13+ are allowed) retreat for those looking to connect with nature. While the comforts of heat, electricity, and a plush bed in the cabins suffice, there is an element of "roughing it," as none of the cabins have bathroom facilities. The grounds share one bathhouse with toilets and showers for all guests, akin to a campground. The cabins vary in size and design, but expect well-outfitted interiors filled with antique furniture and fun accents on the walls. With its short supply of cabins and high demand, be sure to plan more than a year in advance for your stay.
The Mohicans
WHERE: Glenmont, Ohio
The six tree houses that make up the aboveground accommodations at Ohio's The Mohicans are storybook perfection. In fact, two of them were featured in the book Be in a Tree House by Pete Nelson, tree house designer and star of Discovery Channel's "Treehouse Masters." These Nelson-designed perches are connected via wooden pathways in the forest, where sizes range from two to four guest accommodations. Each of the tree houses are entirely unique, where some feature outdoor showers and others offer full baths, but the common thread throughout all of them is their proximity to amazing hiking, fishing, and canoeing options in this natural playground.Continue Reading Article After Our Video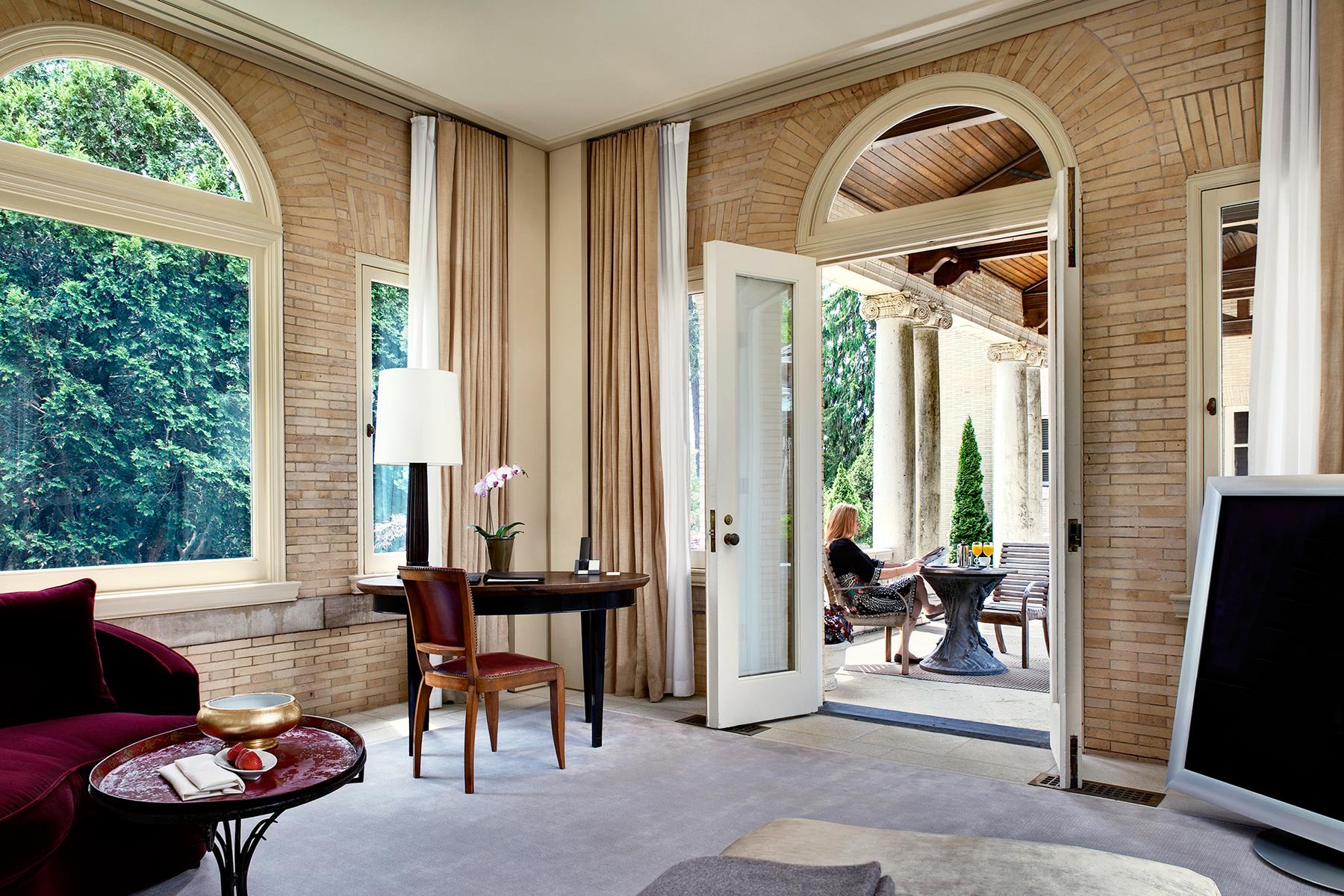 The Aviary at Wheatleigh Hotel
WHERE: Lenox, Massachusetts
Luxury meets nature-chic at The Aviary, Wheatleigh Hotel's top-of-the-line, two-story treetop suite. Formerly an aviary, this design-forward hideaway has been retrofitted to feature expansive windows, a custom-built winding staircase, and a disarming antique soaking tub. Take the time to descend from the treetops and make use of the resort's expansive 22 acres, where no stay is complete without a visit to the immaculate wine cellar and the picture-perfect pool. Come summer, Wheatleigh hosts a weekly Wednesday night barbecue, serving a high-end al fresco experience.Related: Best Things to Do in Boston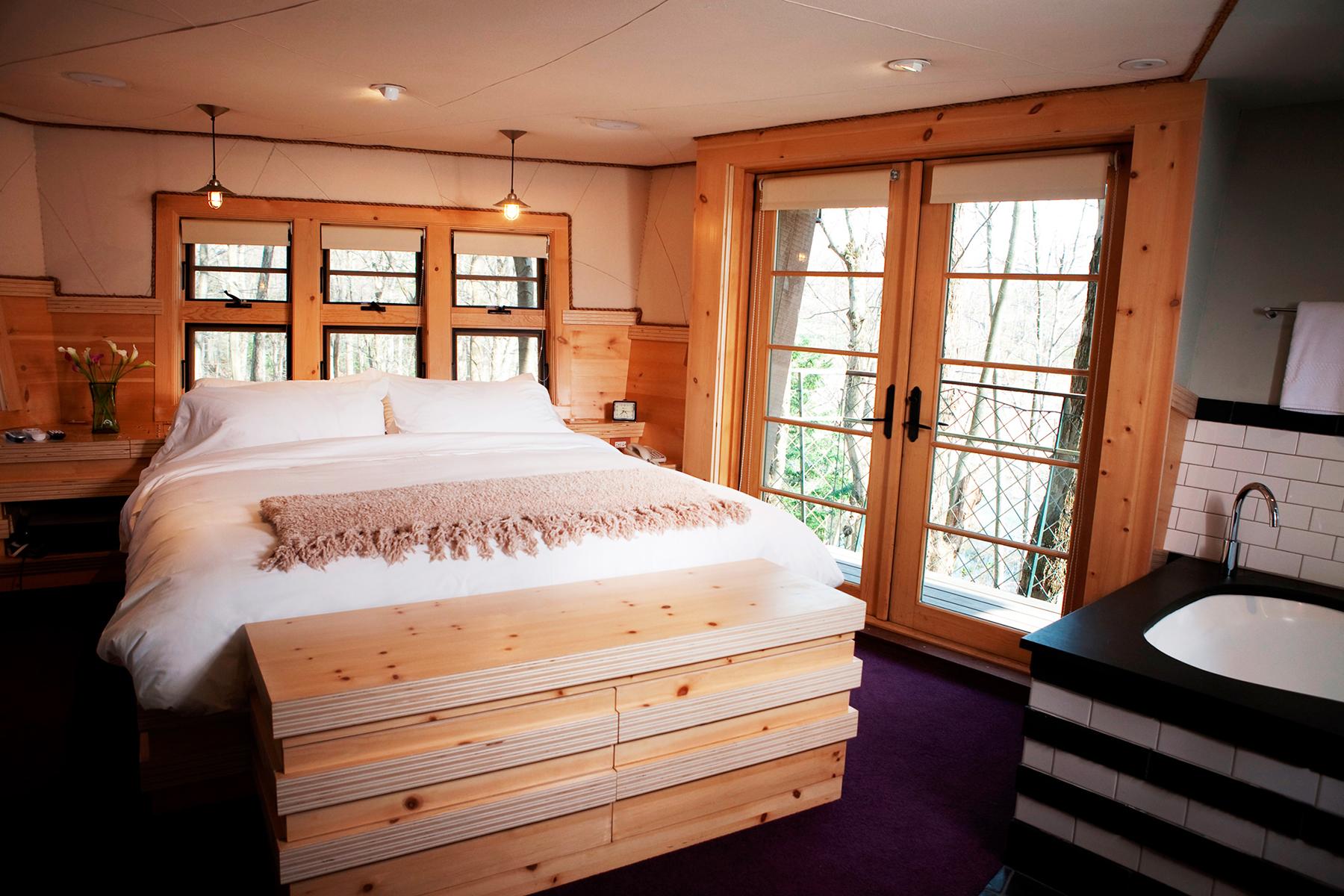 The Treehouse at Winvian Farm
WHERE: Litchfield Hills, Connecticut
You won't soon forget a night in the Treehouse at Winvian Farm, one of the nineteen unique accommodation options on the 113-acre property in the Litchfield Hills of Connecticut. A stay in the Treehouse starts with an ascent up the color-canopied staircase to the main entrance, 35 feet from the forest floor. With two floors, the cottage features a king-size bed and sofa pullout, along with luxurious amenities including two fireplaces, a steam shower, and a Jacuzzi. With a full bar on the second floor, a night in the 780-square-foot property makes for the perfect celebratory toast.Related: Litchfield Hills Travel Guide
Out'n'About Treehouse Treesort
WHERE: Cave Junction, Oregon
There's a commonality at the Out'n'About Treehouse Treesort in Oregon that creates fast friends among the nightly tenants of its twelve world-class tree houses: All guests have waited for this night for upward of a year—the furthest advance booking allowed. Each tree house is unique and sparingly decorated with a rustic, camping feel, and the Treesort is modeled as a bed and breakfast with the events and scope of a resort. With plenty of activities to fill the day, from horseback riding to an extensive zip-line course, you'll want to make sure to carve some time out to marvel at the structures suspended in the trees or sit back in your high post and take in the view.
Post Ranch Inn
WHERE: Big Sur, California
The luxurious touches of Post Ranch Inn rise to meet the elevation of the property's seven tree houses in a delightful manner. Suites floating in the sky come standard with a bottle of wine, salted caramels, fresh granola bars, and local cheeses, perfectly paired with the ultimate lounging on a private deck with sweeping views of the forest and Santa Lucia mountains. With a skylight over the bed for nighttime stargazing, binoculars, and walking sticks in each suite, connecting with nature is a seamless experience accentuated by the comforts of modern luxury.Related: Big Sur Itinerary
Treehouse Cottages
WHERE: Eureka Springs, Arkansas
Spanning two locations and offering seven tree houses in total, Treehouse Cottages has been making dreams come true with canopy living since 1991. Married couple Terry and Patsy Miller have worked tirelessly to construct high-flying properties that provide the modern luxuries of a fine lodge in the serenity of the treetops. Terry, a master builder, designed and built each cottage by hand, while Patsy infused the interiors with her own artistry, complete with handmade tiles and pottery. Air conditioning comes standard, as numerous cottages feature floor-to-ceiling windows, a welcome relief to enjoy the high-up view while beating the heat of Arkansas summers.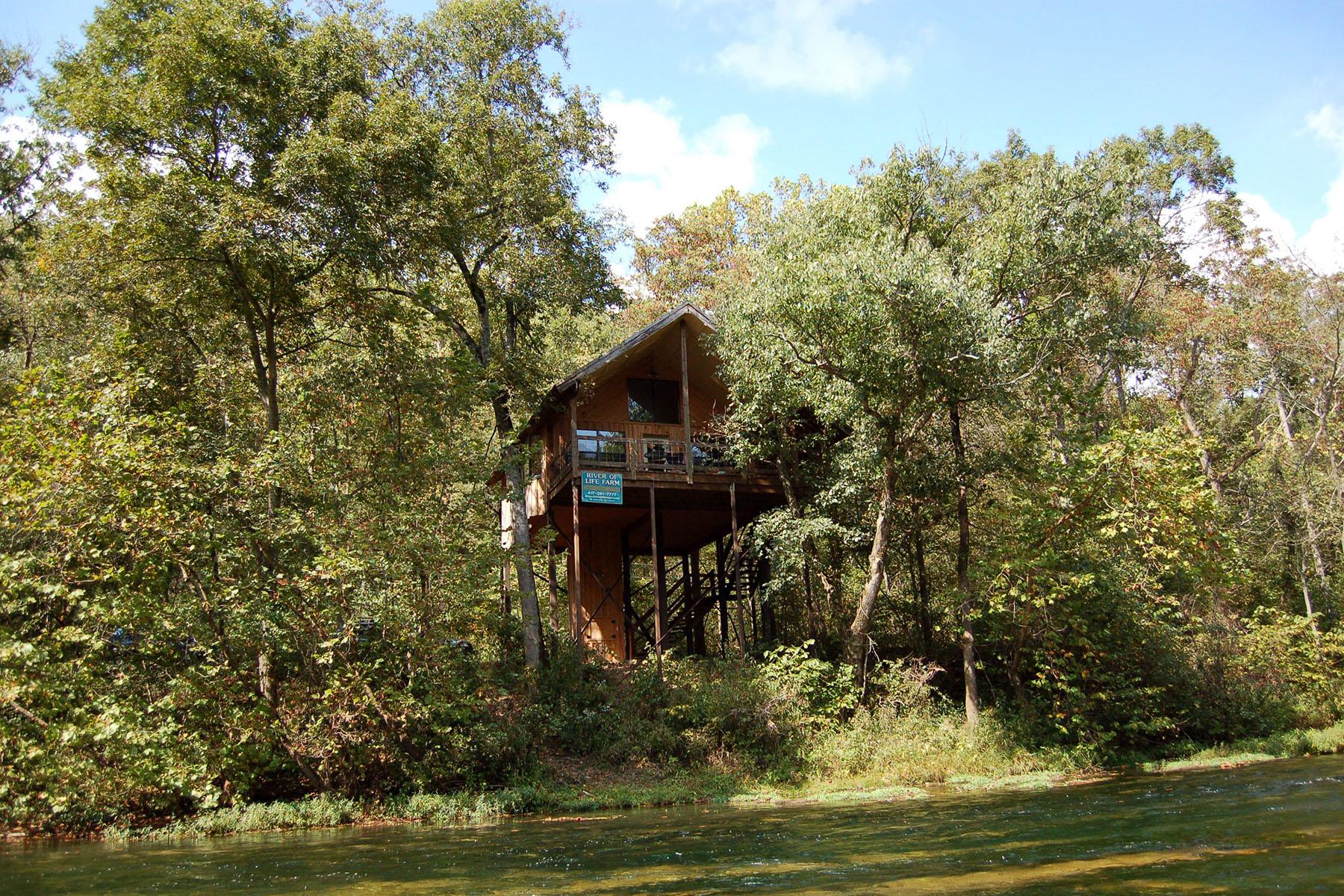 Missouri Treehouse Cabins
WHERE: Dora, Missouri
After a devastating storm in 2017, owners Myron and Ann McKee set to work rebuilding and renovating these beloved treetop cabins. The Missouri Treehouse Cabins have been a haven for families for years, welcoming them in along the expansive grounds of the third generation-family owned River of Life Farm. Fourteen cabins now hover where eight once hung over the Missouri Ozarks, offering updated amenities like oversized whirlpool tubs and complete kitchens with dining areas. The granddaddy of them all is The Cliff House, with six bedrooms and five bathrooms and room for 14 guests. The tree houses are a favorite lodging option for the region's choice fly-fishing.
Jackson Hole Hideout
WHERE: Jackson Hole, Wyoming
An extension of Jackson Hole's nature-driven culture, Jackson Hole Hideout offers an elevated lodge experience in the heart of the forest. Greg and Beth McCoy purchased this treetop bed and breakfast in 2015, reopening in 2016 with five individually decorated guest rooms and suites after an extensive renovation. The lodge's new luxurious look spans three levels where natural elements complement western chic décor. Guests can start the day with a hot and hearty breakfast before heading out for bird watching, nearby horseback riding, and whitewater rafting. All five guest rooms have private bathrooms and feature cozy comforts like faux fur throw blankets and plush bedding, with natural toiletries made from essential oils.
River's Edge Treehouse Resort
WHERE: Robbinsville, North Carolina
This aptly named resort is perched above the banks of the Cheoah River in the foothills of North Carolina's Great Smokey Mountains, where six standalone tree houses offer respite in the woods. The River's Edge Treehouse Resort closes during winter—reopening April 15—when the hiking and fishing are at their best. Each tree house is named after a type of tree and can accommodate up to two guests. Rentals include access to a common area where guests can commune around a central fire pit with Adirondack chairs and yard games.