Don't you dare visit without ordering hot chicken…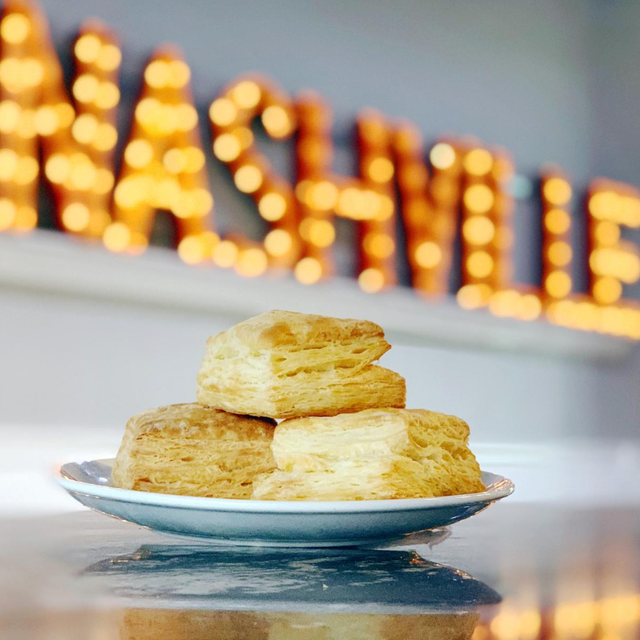 BECCA WILDSMITH
The odds that you've been invited to at least one Nashville bachelorette party are extremely high, so if you haven't already visited Music City, you're in for a real (re)treat. Whether you're packing your bags for a girls' trip, couples' weekend, or even a solo adventure, you need to prepare yourself for the full Nashville experience. That's where we come in.
If you're new to Nashville, here's what you need to know: The bar scene never sleeps, and you'll find plenty of Instagrammable sites when walking throughout the city (can confirm that you'll pose for at least one pic in front of the city's iconic angel wings mural). All photo ops aside, the real truth is that Nashville is all.about.the.food.
Sure, it's got a solid music scene, but the city's true flavor lives in its hot-chicken shacks, casual-cool eateries, and super chef-y restaurants. Welcome to your very detailed food-tour itinerary of spots to check out for the absolute best food in Nashville. 
Best Place for Coffee Geeks
Crema Coffee Roasters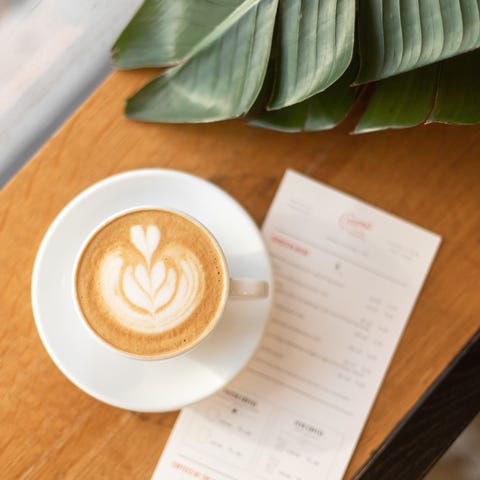 The people behind this award-winning spot roast their beans, sourced from global farmers they're literally friends with, in-house in small batches. Cups on the menu come with java-snob-worthy tasting notes. Budding coffee enthusiasts are best initiated via the Asrar Haraz coffee from Yemen.
Best Bottomless Brunch
Sinema Restaurant + Bar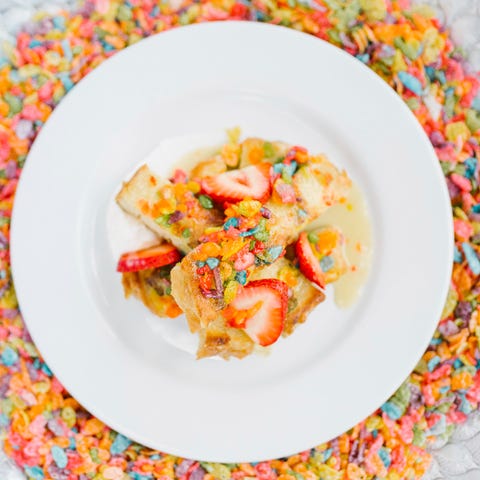 SINEMA RESTAURANT AND BAR
The entire weekend brunch menu is bottomless—including tableside mimosas and Bloody Marys and the food. You'll be saying, "Another round, please," to dishes like Fruity Pebbles French toast and bacon jalapeño cheddar grits.
Best Southern-Style Biscuit
Biscuit Love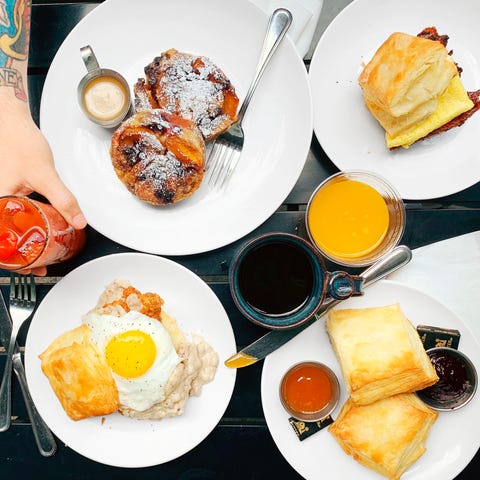 The pillowy deliciousness was perfected via food truck, but now this Food Network–famous place has three brick-and-mortar restaurants around town. Its flaky, layered biscuits are served hot and loaded with toppings like fried chicken, sausage gravy, eggs, and whipped cream and strawberry compote.
Best Lunch
Arnold's Country Kitchen
ARNOLD'S COUNTRY KITCHEN
This unassuming joint is a favorite "meat and three" (read: a plate filled with your choice of meat and three sides) stop for musicians and celebrities who rave about the turnip greens, corn pudding, and roast beef. Don't let Arnie's lunchroom vibe throw you though. It has a James Beard award, basically an Oscar for food.
Best Hot Chicken
Prince's Hot Chicken Shack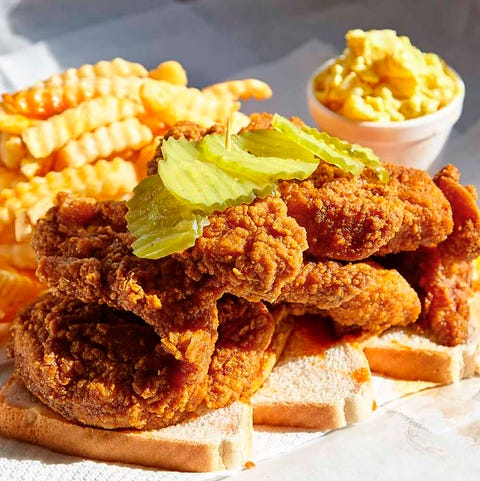 Seriously, don't even go to Nashville if you don't plan on eating this deep-fried dish. It was invented here, and you can now find it in doughnut, grilled cheese, and even ice cream form around town. Start with the OG two-handed sandwich at Prince's—slaw on the side, pickles on top.
Best Fancy-Schmancy Dinner
Audrey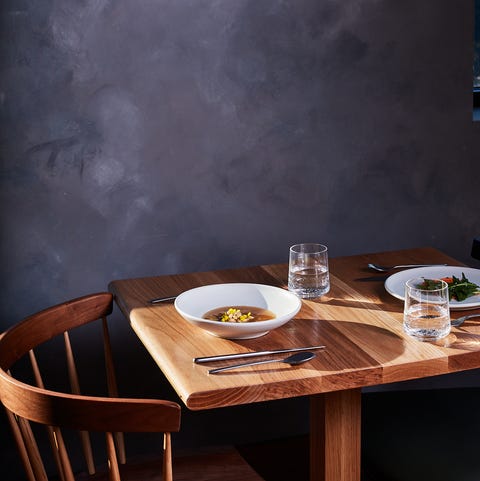 EMILY DORIO
Meals at chef Sean Brock's flagship restaurant showcase haute cuisine made with organic and sustainable ingredients. While that's cool and all, the thing worth working into your Instagram food captions is the old-school cooking techniques Brock adopted from the Appalachian community. (Will be googling "pine rosin potatoes" till further notice.)
Best Watering Hole
pH Craft Cocktails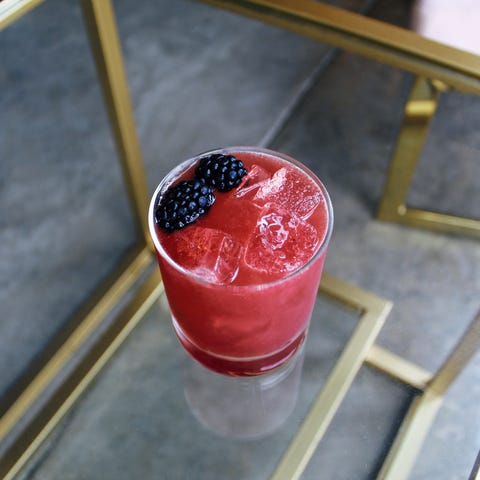 This laid-back WeHo (Wedgewood-Houston) bar is a neighborhood gem that might inspire you to never leave town. The juices are freshly squeezed, there's locally sourced booze, and the bitters and syrups are homemade. If you visit during a live performance, get in on the bartenders' specialty vintage cocktails that pair perfectly with the vibe of the night.
Best Snack for the Plane Home
Five Daughters Bakery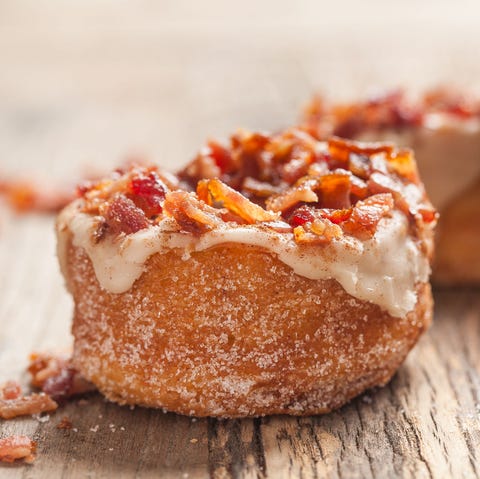 FIVE DAUGHTERS BAKERY
You won't be the only one flying out of Nashville with a little pink box from this family-run bakery. Its airy 100-layer doughnuts—the cronut's Southern cousins—are infused with fillings like vanilla buttercream, blueberry-basil jam, and fresh lemon curd. Even hyper-extra flavors like Peanut Butter Cup Puppy Chow and maple-bacon King Kong travel well. 
Kristy Alpert is a lifestyle editor at Cosmopolitan, covering travel, health, food, home, and more.